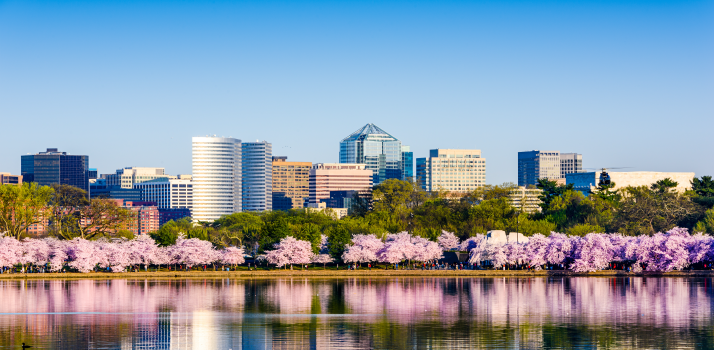 ABOUT ARLINGTON C-PACE
Program Overview
Welcome to the Arlington C-PACE website. Whether you're a building owner, a real estate developer, a contractor, a mortgage holder, or a capital provider, our goal is to provide you with the information you need to take advantage of this innovative building modernization program.
What is Arlington C-PACE?
Arlington C-PACE is a county-sponsored program that enables owners of commercial and industrial buildings to use private sector money to finance energy efficiency, renewable energy, and water efficiency improvements to their property. The benefits of C-PACE include:
100 percent financing for existing building projects; up to 20 percent financing for new construction projects
Long terms (up to 25 years)
No upfront, out-of-pocket expense
No personal guarantee required
No application fee
Well-designed projects for existing buildings are cash-flow positive
More than 30 states, including Virginia, have passed legislation enabling C-PACE. On November 18, 2017, in accordance with the Commonwealth's clean energy financing law, the Arlington County Board adopted an ordinance that established the first C-PACE program in Virginia. The program can be used to finance both existing building retrofits and new construction projects.
Spearheaded by the Arlington Initiative to Rethink Energy (AIRE), Arlington C-PACE will advance several public policy goals as described in Arlington's award-winning Community Energy Plan. Those goals include reducing energy costs, increasing renewable energy deployment, lowering greenhouse gas emissions, and creating local jobs.
Who Benefits?
Multiple stakeholders benefit from Arlington C-PACE:
Building owners reduce their energy costs, increase their cash flow, and improve the value of their building—all with no upfront, out-of-pocket costs
Contractors grow their business by closing more projects
Developers grow their business by reducing their equity contribution or other types of high-cost financing
Capital providers receive more opportunities to fund attractive, secure, finance-ready projects
Mortgage holders benefit from an improved asset; plus, the increased cash flow strengthens the owner's repayment ability and reduces mortgage default risk
The community enjoys local job growth, improved building stock, and reduced greenhouse gas emissions—all financed with private capital, not taxpayer dollars
How Does Arlington C-PACE Work?
Arlington C-PACE enables building owners to finance 100 percent of eligible improvements through a long-term, fixed-rate financing tool that requires no upfront costs and no personal guarantee. After working with a contractor and the program administrator to identify eligible improvements, the building owner will review independently verified cost savings projections. If satisfied with the projections, he or she will then enter into a financing agreement with a pre-qualified private capital provider of his or her choosing. Upon finance closing, a voluntary special assessment will be recorded on the improved property. The special assessment, which is similar to a water or sewer district assessment, is then billed and collected by the capital provider and repaid by the owner over the financing term (up to 25 years). In most cases, the energy cost savings exceed the assessment payment, thereby enabling capital-intensive equipment upgrades and cash-flow-positive projects. And because the C-PACE assessment obligation is tied to the property (and not the owner), the assessment can transfer to the next owner when the property is sold.
For commercial property developers, Arlington C-PACE provides affordable, long-term, non-recourse financing for up to 20 percent of the construction cost, as long as the developer agrees to exceed the requirements of the current local energy code. Developers can use C-PACE financing to lower their equity contribution or reduce the need for other types of capital, including high-cost mezzanine financing.
Who Administers the Program?
Sustainable Real Estate Solutions (SRS) administers the Arlington C-PACE program.
What is  the Program Administration Fee?
The Arlington C-PACE program is self-financed through program fees charged to participating property owners. The fees cover the startup and recurring costs associated with designing and administering the program.
A one-time program administration fee, equal to 2.5 percent of the project finance amount, not to exceed $75,000 per project, is applied to each financed project. This fee is collected by the capital provider at loan closing, and remitted to the program administrator within 10 days of the closing.
Back to Top
ABOUT US
Arlington Initiative to Rethink Energy
The Arlington Initiative to Rethink Energy (AIRE), which is spearheading the Arlington C-PACE program, helps Arlington County residents and business owners make smart decisions about energy, and supports individual actions that improve and sustain residents' quality of life. Through rethinking energy, AIRE is committed to energy practices that will make Arlington County a more prosperous, healthful, safe, and secure place to live, work, and play.
For more information, visit https://environment.arlingtonva.us/energy/.
Back to Top
Sustainable Real Estate Solutions (SRS)
Sustainable Real Estate Solutions (SRS) partners with state and local governments to administer commercial property assessed clean energy (C-PACE) programs. Founded in 2010 by experienced commercial real estate and energy efficiency professionals, the company's proprietary technology-enabled PACEworx™ Platform streamlines the management of the data-intensive C-PACE technical and financial underwriting process. SRS's Investor Confidence Project-credentialed quality assurance methodology has facilitated more than $120 million in C-PACE financing nationwide—a level unmatched in the industry.
SRS empowers C-PACE public-private partnerships across the country, including programs in California, Colorado, Connecticut, Ohio, Oregon, Rhode Island, Utah, and Virginia. The company is based in Trumbull, Connecticut.
For more information, visit www.PACEworx.com.
Back to Top